X
Please enter your email address
To continue reading please enter your email address, we promise we will not pass this on to anyone. We will use it only to inform you of interesting news pertaining to Apex Recruitment.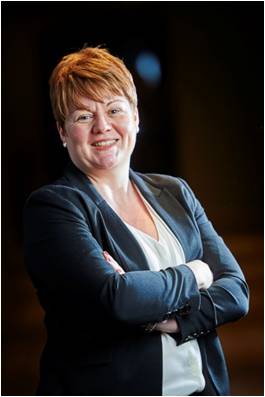 We're back with another fantastic interview in our Women in Industry series. Today we're talking to Hannah Alexander who is an Area Director with Lloyds Bank. Hannah's career in banking began when she was 25 years old and she talks to us about the changing face of banking and how as a sector, it is making changes to bring more equality to the banking and finance world.
Can you share a little bit about what it is that you do and what a typical day for you is like?
I lead a team of relationship directors who support SME clients across the country, we have a client base of around 1,000. The team very much see their role as helping their clients prosper, that could be through advice, financial support or introduction to strategic partners.
It is a really varied role so there is no typical day. This week, for instance, I've been out with relationship directors, meeting clients, potential clients to gain a better understanding of how we are doing and what our clients need. I've been in London presenting to our MD and I've been working with a local social entrepreneur. I view it like I run my own business, so across the team that I support and the clients that we look after I feel I've got responsibility for delivering a P&L, delivering client satisfaction, developing my team and supporting the community,
What is your biggest accomplishment in your career so far?
I think it would probably be my promotion to my current role* which has allowed me to deliver a transformation change across the team. It has seen them support more clients than ever before and for the team themselves to achieve greater personal success through their improved performance.
What else would like to achieve in your career?
I feel very optimistic about my future career and the opportunities that there are for me to progress within Lloyds Banking Group. I would like to do a bigger leadership role, whether that's leading front line teams or in strategy and planning.
How do you balance career & family?
I had my son when I was 17 years old and so I guess my journey into banking wasn't very conventional. At 6th form, I had plans to go and study law or politics but falling pregnant was probably my first career hurdle. When my son was born I worked in retail and B2B sales part time, and then I saw a job description for a Business Banking Manager advertised and I thought it sounded like a great role and one that really appealed to me. I applied and I was successful. I was 25 years old when I joined the bank and my son was 7 years old. Like anyone with caring responsibilities, I found it very difficult to balance work and family life.
My son had some challenges throughout his school years which meant that both I and the organisation* needed to be really flexible in terms of working hours and patterns. I was very lucky with the support I received from the bank, my family and husband. I think if I hadn't had been so supported it would have been tough because I would have been forced to make a choice between family and my career. I'm really glad that I didn't have to make that choice and ultimately, I feel that the Bank and I were both winners.as I've gone on to forge a successful career. Even now that my son has grown up, work-life balance is still an important area that I don't always get right! But it helps for me to know that I'm totally empowered to work in a way that really suits me, so if I feel that it suits better to work in the evening and take some time back in the afternoon then I'm able to do that. This is particularly helpful for me as my husband works shifts. There is no magic answer to the work-life balance question but I think it means different things to different people but sometimes you have to take a stand back and ask yourself 'Am I happy with my work-life balance?". Arguably, it's only you who can change that.
Banking (and Finance) is a field mainly dominated by men. Have you seen any improvements in the gender gap in your working life or do you believe the situation to be worsening?
I agree that in commercial banking it is a male dominated field, but I'm pleased to say that things are changing significantly and continues to change at a fast pace, well, that is certainly the case in our organisation. In my own regional senior leadership team, the senior roles held by women have increased from 10% in 2014 to 30% in 2017 and that's a big move forward. From a wider bank perspective, our CEO has made some public commitments to decrease the gender gap, and he has recently announced some organisational changes which saw three female appointments to the GEC, which I feel is very positive. So, while the sector has been historically male dominated and we are not yet where we need it to be, as an organisation we are definitely trying to change that at a pace. And we are seeing the benefits in terms of having diverse teams and diversity of thoughts, it creates a better culture and better represents our client base too.
Externally I do see changes happening in the sector. Fifteen years ago, if I attended a networking event with accountants, solicitors or banking professionals it would have been about 5% female and 95% male. I'm seeing a change across the whole professional and financial services sector.
What are some of the biggest challenges women face today if they want to enter the world of banking and finance?
I can only comment on my own experience, and I certainly think that most historic barriers have already been removed, things like rigid working hours and some cultural barriers. I mentor a number of female colleagues and my observation would be that some barriers are often perceived rather than being real. This can be because of our own expectations or our own sense of our ability to be able to do certain roles. I think the more female role models that we have, then the more we will encourage people to think, "if she can do that, then so can I", that will continue to take away some more barriers.
Have you ever tried to make yourself more "male" to fit in with your colleagues?
Often! I think when I reflect back on my early years in the bank, I can see how I tried or wanted to be like 'one of the lads'. That might have been more about my own mindset in terms of trying to fit in, because when you're in the minority you do naturally try to be like everyone else. What I have found though is that the more I share of me, and the more I've had the confidence to do that, the more successful I've become. So, there is something positive about embracing your differences and using them to your advantage.
Do you ever get tired of having to make the extra effort needed to ensure a female voice heard amongst the male throng?
I'm lucky that in my peer group, while the gender gap isn't 50-50 in the senior leadership team in the Midlands, it is 60-40 and by virtue of that, there is definitely more of a chance to have the female voice heard. That is a more recent occurrence, and there are probably times if I look back on my career where I didn't speak up or I didn't put my ideas forward because I felt I was in the minority and perhaps I wouldn't have been taken seriously. But success breeds confidence and fundamentally, the fact that I'm good at my job means that when I speak people do listen. And that is the message from me; if you are good at what you do then don't be afraid to say what you think. Whilst gender diversity is important there is something about cognitive diversity; having a different mindset within discussion groups or a panel, diversity of thought is so important and I'm seeing that a lot in our organisation.
How do you motivate yourself to keep making the extra effort when it could be very easy to get frustrated with constant inequality?
If you were to view it as a 100-mile journey, we are certainly 60 or 70 miles down the track. What motivates me is seeing people achieve success. Whether they're male or female it doesn't matter, but to particularly see female colleagues grow in confidence and put themselves forward for bigger jobs, that motivates me.
What do you think is the best part of being a woman in the banking sector?
I think from my own experience and what I see unfolding, there has never been a better time to be a woman in banking. We already discussing things like agile working and flexibility, but what we're trying to do is to create a very inclusive culture which means that people can build their careers with us regardless of what their circumstances might be. For example, having caring responsibilities as a parent shouldn't hinder someone being able to progress their career and we've introduced a number of things to help support that. We've partnered with an external agency called Family Matters, and all our SME colleagues have access to emergency childcare. For instance, if you were away at a meeting and your child care let you down you have access to a range of qualified nursery nurses and childcare providers who can step in and help at short notice. Equally those colleagues who have elderly relatives which creates caring responsibilities are also supported.
We offer a great employee assistance programme which gives advice to people in terms of their health and well-bein and gives access to resources. For example, if you've got personal, family, relationship or money issues, then we offer a confidential 24hrs a day service. I feel that from that perspective, whether you're a man or woman, it's a great environment to work in. Changes like these continue to help remove barriers and make it a great career choice foreverybody.
Who do you think should pursue a career in the banking world? (e.g. personality traits, interests etc…)
Working for a bank nowadays clearly offers a broad range of opportunities; whether it's traditional banking or working on digital transformation programmes. If I focus on my own role, then you absolutely need to be interested in people and have a restless curiosity to understand how people's businesses work; what makes them tick? What are their motivators? You have to want to be able to support them on their journey and connect them with people and solutions that can help them. As a leader, you need to be able to win the hearts and minds of people too. If they're motivated and engaged then they're going to deliver for you. No longer can you rely on a position power and tell someone to do something. In my opinion, that's weak leadership. It's about painting a picture, setting a vision and getting everyone to want to come with you.
Do you have any advice for young women looking to start their careers in the banking sector?
Just do it! The barriers to entry are very few. I joined without any banking or finance experience at 25 years old. I did my professional diploma in financial services management when I joined; there are all sorts of internal and external development the bank can support with. I think we value the right behaviours and cultural fit, we can teach people the technical aspects of the job. We look for people who can have great conversations with people and get the best from them; if you can do that then we can teach you the other aspects.
I would also say to be your authentic self. You don't need to become someone different. I mentor a group of talented females in our organisation, but I often sense they need to change to progress to bigger and better jobs. As I've said, the more authentic I've been in my career, the more successful I've become.
My message would be, bring your whole self to work and be proud of who you are.
_______________________________________________________________________________________________________________________________________________________________________________________________________________________________________
We're very grateful to have Hannah feature in our interview series. No doubt you will find Hannah's story inspiring and encouraging.
For further resources and interviews, please visit our Women in Industry series homepage. If you have any comments or would be happy to be interviewed for further instalments of this series, please get in touch with us at womeninindustry@apex-recruitment.co.uk
Contact Us