X
Please enter your email address
To continue reading please enter your email address, we promise we will not pass this on to anyone. We will use it only to inform you of interesting news pertaining to Apex Recruitment.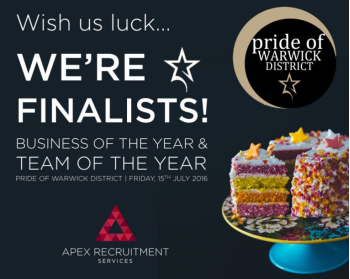 We're delighted to announce that we've been shortlisted for both 'Business of the Year' and 'Team of the Year' at Touch FM's Pride of Warwick District Awards, taking place at Chesford Grange Hotel in Leamington this Friday 15th July. In their fourth year, the Pride of Warwick District Awards celebrate the best achievements of businesses, community organisations and individuals who have truly inspirational stories within Warwick District.

A large section of the nomination criteria is attributed to the business or individuals commitment to Warwick District. Over the last 12 months we have proudly supported local schools and colleges in providing employability workshops to Kineton School and Warwickshire College, with more lined up for the new academic year 2016. This is on top of the ongoing charity programme and volunteering that we support locally.

Feauturing as a finalist is testament to our Apex values, namely of commitment and collaboration; "Someone once said two heads are better than one, and we think they are right. At Apex we love creative collaboration, cooperation and team work. We are consistent, clear and concise in how we communicate and offer mutual respect for all contributions. Being an Apex team player means being honest and selfless and holding our family values at the core of everything we do.".

Sales & Marketing Director, Richard Marchington, comments:

"We as directors are immensely proud of the amazing effort and work our teams have undertaken over the last 12 months. Since 2011 the business has changed more than we could ever imagine, to take us to the best place we've been in in our 38-year history. It means the world that our employees and our organisation as a whole have been shortlisted and recognised for this success."

A team of ten colleagues from Apex will don their glad rags on Friday to join other nominees and local businesses at the awards, and wish all our fellow nominees the best of luck for their awards.